I made this recipe again for our annual Chili cook-off at church this past Sunday. I've gotten lots of requests for the recipe. So I'm going to post it here. However in that I have a request myself. If you happen to look at this recipe and know of a super wonderful preservative free chocolate cake recipe that might match this moist yummy deliciousness I'd LOVE to have it!! I don't cook this cake as often as I would if I could make it without all the mixes. I do use natural peanut butter, raw milk, fresh eggs, etc....but still need to work on getting the box mixes moved out of this recipe!! Until then.....HERE YOU GO!!! Got this from my cousin! I can assure you it's YUMMY....SUPER rich...but so worth it!!!
Three 9" round cakes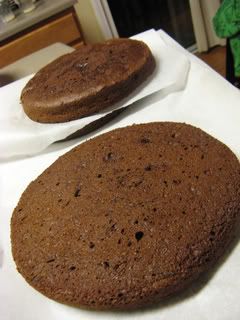 Add some insanely good Peanut Butter Butter Cream
a little shaved chocolate and WALAH.....the best cake ever!!
Chocolate Peanut Butter Fudge Cake
Cake:
1 box Chocolate Fudge cake mix (or any chocolate cake mix)
1 (3 oz.) box instant chocolate pudding
16 oz sour cream
5 eggs
1 C. melted butter
1 tsp. almond extract
1 C. chocolate chips (I use ghirardelli 60% Cacao)

Beat all but the Chocolate Chips. Mixture will be thick. Stir in chocolate chips. Pour into three greased 9" pans. Bake at 350 degrees for for about 25 min...til they are just barely starting to release from the sides of the pan. Not fully released though. they will do that as they cool. (Keep an eye on they can overbake easily and be dry).
Cool completely.
Peanut Butter Buttercream Icing
Ingredients2/3 cup shortening
2/3 cup butter
1 3/4 cup peanut butter
1 cup milk
2 teaspoons Vanilla
Appx 2 lbs confectioners sugar (might need a little more)


Directions
Cream shortening and butter.
Add peanut butter, milk and vanilla.
Gradually add sugar, one cup at a time, beating well on medium speed.
Add milk and beat at medium speed until light and fluffy. Add more sugar (or milk) as needed until icing is desired consistency (should be firm enough to hold a shape but still smooth)
Keep icing covered with a damp cloth until ready to use. Refrigerated in an airtight container, this icing can be stored 2 weeks. Re-whip before using.
I topped with some shaved chocolate. If you want you could probably top with chopped Reese's peanut butter cups and such as well!!