So I don't really 'do' resolutions I don't guess....maybe I don't have enough resolve?
sigh...

Yeah yeah, I can say all I want that I don't set resolutions, but truly we all do it, whether we write them down (or admit it) or not. Even if we wanted to do the same thing a month ago...or a year ago, or even 2 years 3 months ago. Hey it's JANUARY after all, and a NEW YEAR. ANYTHING IS POSSIBLE, right!? Right?
Oh please...I hope so, I hope that maybe this flip of the calendar might give me more resolve (and less cookie eating), more organization to actually DO (or in the case of the cookies...NOT DO) the things I know I need to.

But Goodness I keep looking at blogs, facebook, listening to people and I'm so impressed with all their goals for this brand new lovely year. What about me? I needed something fancy to share, to impress, to sound cool.
better pull out the china.
No really, honey we need to pull out the china. We got to get fancy!!
So what if it's a frozen burrito, it will taste better on fancy china, right?
(shh...really there's a story there. That's the first thing I served on our fine china to my sweet hubby...
I'm so ashamed
But hey, I'm sure it tasted better. It was all fancy after all!!)
That's right folks. We're pulling out all the stops. Gettin' classy 'round here and eating our PB&J's on the "Fancy Dishes!" I mean really, what's the point of having it if it only gets dusted off a couple of times a year. Nope no more.
We're going to be FANCY in this here 20-10.
So, we've taken it from it's formal china cabinet, and nicely arranged place settings. Stacked it up in a much less formal cabinet in the kitchen and.....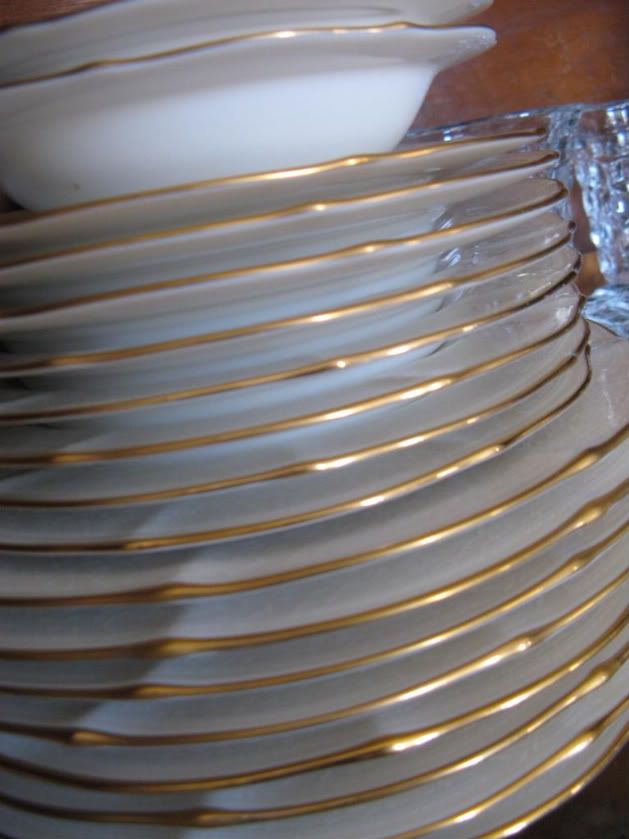 ....we're using it!
And you know what that means??
Well, that the child in charge of setting the table actually puts thought into it and folds the napkins all fancy-like, of course.
And fine china means you light candles....even at breakfast in full daylight apparently.
And fine china means you sit up straighter.
And fine china means you don't forget, and put your elbows on the table.
And fine china means you chew with your mouth closed (no matter how stuffy your nose is).
And it means you must stick your pinky up when drinking your hot cocoa.
And fine china means we use our best manners and talk in your best british accent. Okay not really...well the accent I mean...although don't give my hubby and daughter any ideas.
and fine China means more dishwashing by hand.
yes, in fact, I think it's worth it!!
I should have gotten fancy in 2009.....but you see now it's 2010...and anything is possible. Even this family getting fancy-like!!
(maybe by 2020 we'll even be classy)